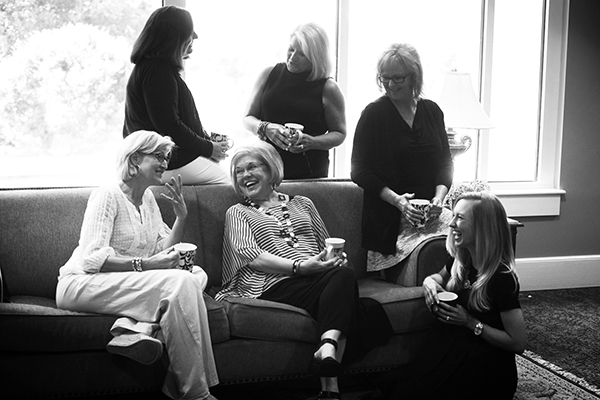 Marsha Crowe – Minister to Women 
What you do (job-wise): Overseeing and developing ministry opportunities to help women understand their potential and influence as they embrace the unconditional love and unstoppable power of Christ in their lives.
Birthday: April 12
I can't live without: Time with my family
Favorite music: Christian, classical and Broadway music
Hobbies: Walking, reading, cooking and "spa-ing"
Random fact about yourself: Ran the New York Marathon 2 times
Books you are currently reading: "DiscipleShift" by Jim Putman and "Made For More" by Hannah Anderson
Favorite Restaurants: Swan Coach House and Tupelo Honey
Who are your heroes: My daughters – Kasey and Kinsee
Sandy Flesner – Women's Ministry Associate
What you do (job-wise): coordinate events, committee and mission trip support, assist Marsha with meetings/calendar/programming, etc.
Birthday: January 9
I can't live without: truth and grace, family and friends, Chick-fil-a iced tea
Favorite music: Christy Nockels, Kari Jobe, Carrie Underwood
Hobbies: baking, watching movies, going to the beach
Random fact about yourself: I have a twin sister; I have seen the Great Wall of China (with my twin sister)
Books you are currently reading: "Teach Us To Want" by Jen Pollock Michel; "Looking for Lovely" by Annie Downs; "Fatal Convictions" by Randy Singer                                         
Favorite Restaurants: Aspens; Murphy's; Bar Taco
Who are your heroes: those around me who inspire others by living passionately and boldly; overcomers
Johnita Bryson – Ministry Assistant
What you do (job-wise):  Women's Ministry finance and event support
Birthday:  November 29
I can't live without: God's Grace and Mercy, My family and Friends and a Diet Coke every morning
Favorite music: Christian artist and Jazz
Hobbies: Tennis, attending my son's sporting activities, leadership volunteering at my son's school
Random fact about yourself: For 16 years,  I was a Buyer and Divisional VP for  several department stores and had the privilege to travel the world. My favorite place to travel was Hong Kong
Books you are currently reading: "You'll Get Through This" by Max Lucado
Favorite Restaurants: Love trying new restaurants
Who are your heroes: My mom left me an amazing legacy and example of a life full of grace and mercy toward others and a personal relationship with Christ that directed how she lived. She is my hero.
Melissa McBrayer – Ministry Assistant
What you do (job-wise):  Receptionist-various office duties, greet visitors, answer phones, assist with events and mission trips
Birthday:  April 25
I can't live without: My family (I love them so!), the beach and a soft cuddly blanket
Favorite music: Anything but rap
Hobbies: Going to the beach, crafty things, going on vacation with friends and family
Random fact about yourself: I performed in the 1996 Olympic Closing Ceremonies; I fall asleep in movies; I have been a victim of a drive by shooting (ask me about it!)
Books you are currently reading: The Bible (was trying to read it in 6 months but it may take more like a year), "Popular" by Tindell Baldwin
Favorite Restaurants: Houstons and Moxie Burger
Megan Reeder – Ministry Assistant
What you do (job-wise):  Assist with events, graphic design, printing, social media, event registration, blog management, coordinate weekly Bible studies and stats.
Birthday: May 22
I can't live without: running; trips to 30A; time with friends and family
Favorite music: Kari Jobe, Meredith Andrews, Laura Story, Selah
Hobbies: Running, shopping and spending time with family and friends
Random fact about yourself: I love to run marathons with my sister Amanda
Books you are currently reading: "Looking for Lovely" by Annie Downs
Favorite Restaurants: Felini's Pizza, Aria, and anywhere that serves fries. I LOVE fries!
Who are your heroes: my husband Kerry