Women's Ministry is excited to be hosting another online Bible study! Amanda Henderlong will be serving as facilitator for "Fear and Faith" by Trillia Newbell. Just joining us? Check out WEEK 1.
Week one took us under the magnifying glass.
Last week
we dove in head first and had to really look closely at our fears. Fear of man, fear of other women, fear of not measuring up. We had to look at the deepest parts of our hearts and perhaps found a fear we had been denying. The women in the video were gripped by fear of disapproval or judgment or comparison. We compare ourselves to other women constantly (and social media doesn't help). We have to admit our fears and FIGHT our fears to combat them.
Trillia wrote in chapter one (optional reading), "Tragically, you and I deny Christ every time we care more about what others think of us than of what God has already declared. Every time we see man's approval and praise, we say to the Lord that His sacrifice was not enough." Ouch, that one hit me in the gut. I had never seen my comparison to others as denying Christ!
Thankfully God is BIGGER than all of these fears. He made you in His image (Gen. 1:26) so you ARE beautiful! He rejoices over you with gladness (Zeph. 3:17) so you ARE enough, and when you feel weak, He is strong (1 Cor. 12:10). Trillia reminded us that sometimes we need to stop and remind ourselves that God loves us—He is for us. His deep love for us trumps anything anyone else says or thinks. We don't need to be enslaved to insecurity anymore because God's love is secure. It is bedrock. It is the solid ground we stand on and it never changes.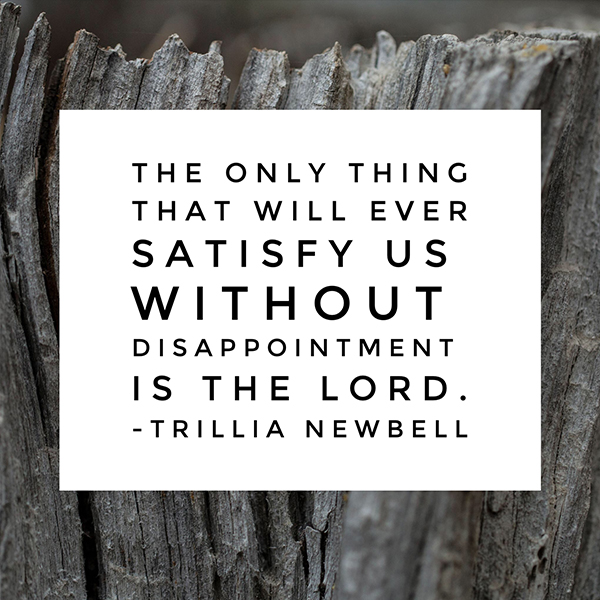 Faithfulness. I am currently reading through the Bible in 90 days and faithfulness is the theme that I see over and over. I am only in Samuel, but God was faithful to his people time and time again even when they constantly failed him.  He was faithful to Moses, He was faithful to Abraham and Sarah and he was even faithful to Rahab the prostitute….just as he is ALWAYS faithful to us.  This week we will be looking at our fear of the future. You'll hear some powerful testimonies and Trillia will share wonderful insight on God's faithfulness and how it is the only perfect thing that is guaranteed. In chapter two (optional reading), Trillia shares about some of the anxiety she has struggled with and she fears the future for two reasons; she thinks she knows what is best for her and unbelief. She has to constantly remind herself that He will take care of all our needs.
I too have struggled tremendously with anxiety, control and fear of the future. I'd love to share a bit of my testimony with you and how God forced me to face all my fears and rely on Him (Click on the video below).
Some things to remember about the future and God's faithfulness:
Faithfulness doesn't mean…
-everything will turn out exactly as you desire
-each prayer will be answered as you wish   
-everything is easy
Faithfulness Does Mean…
-He will work all things together as He sees them to be good for you, in His goodness and sovereignty,  (Rom. 8:28)
-His works are perfect (Deut. 32:4)
-He is slow to anger and quick to love (Psalm 86:15)
-He forgives our sins (1 John 1:9)
-He will complete what He started (Phil. 1:6)
-He will never leave us (Heb. 13:5)
Click
HERE
for the "Session 2 Handout." Before you watch the video
Session 2: "Fear of the Future,"
 let's think about a few things. I'd love to hear your thoughts but commenting is always optional!
1. When you think about the future, what is your general feeling? Fear? Excitement? Worry? Joy? Why?                          
2. Since we cannot control the future, why do we try so hard to control our lives today? What kinds of things do you think are in our control? How are you managing that control?
3. Why do you think fears loom larger than God? How do you think God wants us to deal with our unmet expectations?
4. How has God been faithful to you?
Have a wonderful week working through the discussion questions in the handouts and digging deeper into God's word. If your schedule allows read chapters 2 and 4 in the book or try a different activity from the DEEPER WALK section.
I am praying for each of you!