Women's Ministry is excited to be hosting another online Bible study! Amanda Henderlong will be serving as facilitator for "Fear and Faith" by Trillia Newbell. Just joining us? Check out WEEK 1, Week 2.
Calming your soul
I hope you were filled with hope and encouragement last week as you were studying God's faithfulness. I hope in the midst of political uncertainty, natural disasters, air strikes, war, disease, orphans, famine and on and on that you were reminded and filled with peace that OUR God is still in control and sits on the throne. I pray that as you think about  the future, and all the unknowns it holds, instead of feeling fear, you would feel peace. I pray that you are able to be still and know that He is God (Psalm 46:10) and are able to calm your soul in Him.
God sees our hearts
Most people know the story of David and Goliath in 1 Samuel 17. The Israelites and Philistines are preparing for more battle. Goliath, a Philistine champion who was, well,  a giant steps forward and tells the Israelites only one of them could represent them and fight him. Here comes David, the youngest of all his brothers, and he delivers his brothers some food and hears of this situation the Israelites are in. All of the "brave" soldiers and Saul were afraid and hid, and no one trusted David's faith. David goes out to Goliath with no armour – only stones and a sling – and he defeats the giant. I've always read this thinking, "David must have had an unnatural physical ability to take down the giant and become a hero to the Israelites". In reality, David had an unnatural FAITH to trust that God would take Goliath down. David  never doubted his strength or appearance because he knew his God. In 1 Samuel 16:7 God reminds Samuel that He doesn't care about what we look like.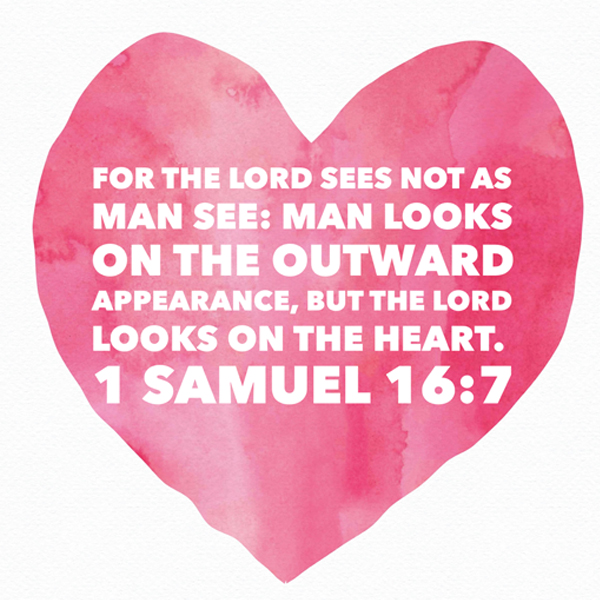 Why don't we remember this? Why are we constantly feeling insecure about our bodies and what we look like and what our bodies are for? This week we are going to be asking hard questions about why we fear ourselves. You will be watching testimonies of women who have been through hard circumstances  and have measured their worth on the world's values instead of on God's. Trillia reminds us that God desires for us to be stewards of our bodies, but that He never created the ideal image that the world has foisted on us. If I have faith like David's, if I see myself the way God sees me and if my heart reflects God, how much more might God do with me? What giants might I  bring down around me?
It won't always be so hard…..
Philippians 3:20-21 "Our citizenship is in heaven, and from it we await a Savior, the Lord Jesus Christ, who will transform our lowly body to be like his glorious body, by the power that enables him even subject all things to himself."
In chapter six (optional reading), Trillia responds to that verse, "Yes! God will make it new. He will transform our bodies, the ones we are pulling and tucking and starving and beating to try to make beautiful. Yes, He will make our bodies beautiful, pure, and glorious when He returns. Our bodies will never die again and most importantly, we will be without sin!"
I hope this week Trillia encourages you that no matter where you find yourself on the insecurity scale, no matter how much you struggle with your intimate relationships, Jesus sees it all. He longs to shoulder all your inner fears, giving you the courage you need to be set free. You are beautiful. You are loved. You are seen. You are valuable—all because the God of the universe made you and declared your value. He created YOU to be His and His glory. Rest there today.
I've been encouraged this week by Laura Story's song "I Can Just Be Me" and I would love it if you found a minute to listen to it!
Before you watch the video Session 3: "Fear of the Ourselves" HERE, let's think about a few things. I'd love to hear your thoughts, but commenting is always optional!        
Why do you think we get this backward—focusing on appearance and minimizing the heart?
Trillia shared that we can share anything with God–particularly our secret worries and struggles. He already knows them, and His arms are open to receive us, no matter how worries, or hurt we are. Why do you think it is difficult to open our inner fears to God?
What is something wonderful about yourself?                   
Have a wonderful week working through the discussion questions in the handouts HERE and digging deeper into God's word. If your schedule allows read chapters 6 and 7 in the book or try a different activity from the DEEPER WALK section.
I am praying for each of you!