Women's Ministry is excited to be hosting another online Bible study! Sandy Flesner (part of the Women's Ministry Staff and gifted leader) is serving as facilitator for "Teach Us to Want" by Jen Pollock Michel. Just joining in? Week 1 and Week 2.
CAN'T GO WRONG
What a great session you're about to start! The video and homework will take you from one strong scripture passage to the next this week. Jen has us looking at the examples of Abraham, Jesus and Paul – doesn't get much better than that, does it? I love scripture for many reasons, including the way it gives us great examples of different people living life. Jesus was of course the perfect example. But other examples scripture gives us are important too…sometimes good, sometimes not so good. And often raw, questioning, struggling and very human.
AH, SWEET COMFORT
Philippians 4 has been one of my favorite scripture passages for a long, long time. I would even call it my "comfort passage" – is there such a thing? You know, kind of like we have "comfort food." Mine is mac and cheese…or grilled cheese…or even cheese grits. What's the common thread of those? Cheese. (I hadn't even noticed that until I wrote them down for this blog post – what a revelation!)
Likewise I would say the common thread to all my comfort passages is the promises from God, specifically about His nearness and presence and peace. Paul wrote Philippians 4 to the Philippian church while he was in prison. How crazy for him to be sharing wisdom about rejoicing instead of feeling anxious while he was in really low and desperate circumstances. He spoke of the promise of peace that comes even in tough times. Makes it seem quite real, doesn't it?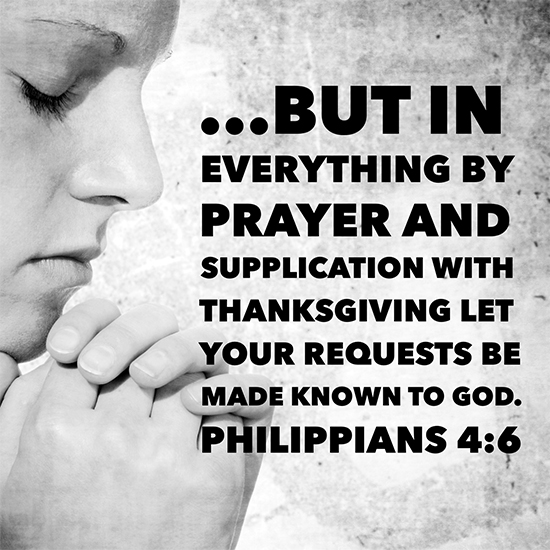 JUST GIVE ME A FORMULA
If you are like me you love getting a step-by-step formula for a task. If we can know the secret of how to do something then we can move ahead toward accomplishment and success. But when we don't have those clear instructions it is so much harder. Remind me of the early days of parenting. You are desperate for someone to tell you, "Do 1/2/3 and it will all be good." If only it could happen. A good friend of mine became a grandmother this summer and has watched her son go through some frustrating moments in those newborn baby days. He just wants a 3 step process for how to make his new baby girl stop crying. And eat better. And sleep better. Oh how I remember those feelings. But how lucky are we this week to get some "secret formulas" as we read the scriptures and do the homework. Thank you Paul (and Philippians 4) for helping us with the secret to bringing our desires to God. And the secret to being content. And thank you Jesus for giving us a model way to pray in the Lord's Prayer (in Matthew 6). Can't wait for you to dig in and explore.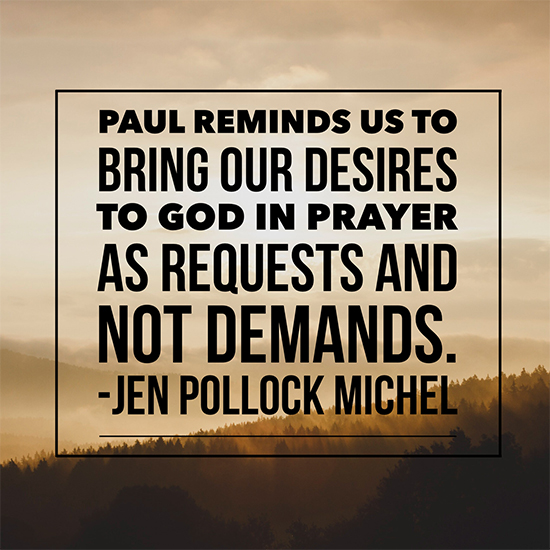 HERE WE GO…
Before you watch the video, how about pondering a few questions as you get started?  I invite you to share your thoughts in the comment section. This is always optional.
1. If you are reading the book, what was one of your favorite "nuggets" or phrases from last week? Or if you are just doing the handouts, what scripture passage most spoke to you?
2. Do you like country music? Garth Brooks has a song where he sings, "Sometimes I thank God for unanswered prayers." Can you relate to that sentiment? What is something you've asked God for that you are grateful He didn't give you?
3. Do you find yourself reluctant to ask too many things of God? Or do you lean into requesting in your prayers, feeling comfortable to ask a lot?
You can watch the video segment with Jen Polluck Michel on Right Now Media HERE. Have a great week working through the discussion questions in the handouts and digging into God's Word.
Take a look at the DEEPER WALK section at the end of your handouts if your time and schedule allows. If you are reading the book, the suggested reading is chapters 6-7 this week.