Women's Ministry is excited to be hosting another online Bible study! Sandy Beetler (part of the Women's Ministry Staff and gifted leader) is serving as facilitator for "The Sacred Echo" by Margaret Feinberg. Just joining in? Click HERE for Week 1.

I am still pondering the whole idea of the echo in nature. I found an article about the World's Best Echoes and thought it was interesting. Read it HERE if you get a minute. We have to keep in mind this unique concept of God echoing His messages to us as we go along, as we really sit with the idea that God wants to speak to our hearts. Knowing this study was coming up, I have been a little more conscious of the idea of repetitive messages or themes around me and I have had two experiences recently where I "caught it happening." Let me share one with you so you will know what I am talking about. Several weeks ago I heard a pastor on Christian radio talking about the story of Peter walking on water. His perspective was different from many people who have judged Peter for his doubt which made him start to sink in the water. Instead this guy made the point that Peter was more courageous than any of the other disciples who stayed in the boat and at least he got "out of the boat." It resonated with me because I feel like at this season of my life God is calling me to not be afraid but to "step out of the boat"….because if I don't ever step out I will never have the chance to walk on the water, right? Then again last week I was watching a Bible study DVD with a friend and heard the same reference again with the same perspective. So to me that was an "echo" from God – He wanted me to not miss that point and so He put it before me two different times. So I've started a list and want to really track how God is putting repetitive things in front of me. I really like lists (or should I be honest and say I love lists) so this was a natural response for me. This will help me to be aware and more intentional about what God is repetitively trying to say to me while we are in this study. If you want to join my list-making-endeavor, click HERE for a cute template to print out and use. Megan Reeder, one of our Ministry Assistants in the Women's Ministry office, is partnering with me in several ways this study. She maintains our blog and will make sure the posts are there and comments are showing. She will also design and develop any graphic or cute printable that we have along the way. See her picture below so you can put a face with her name! Thanks Megan!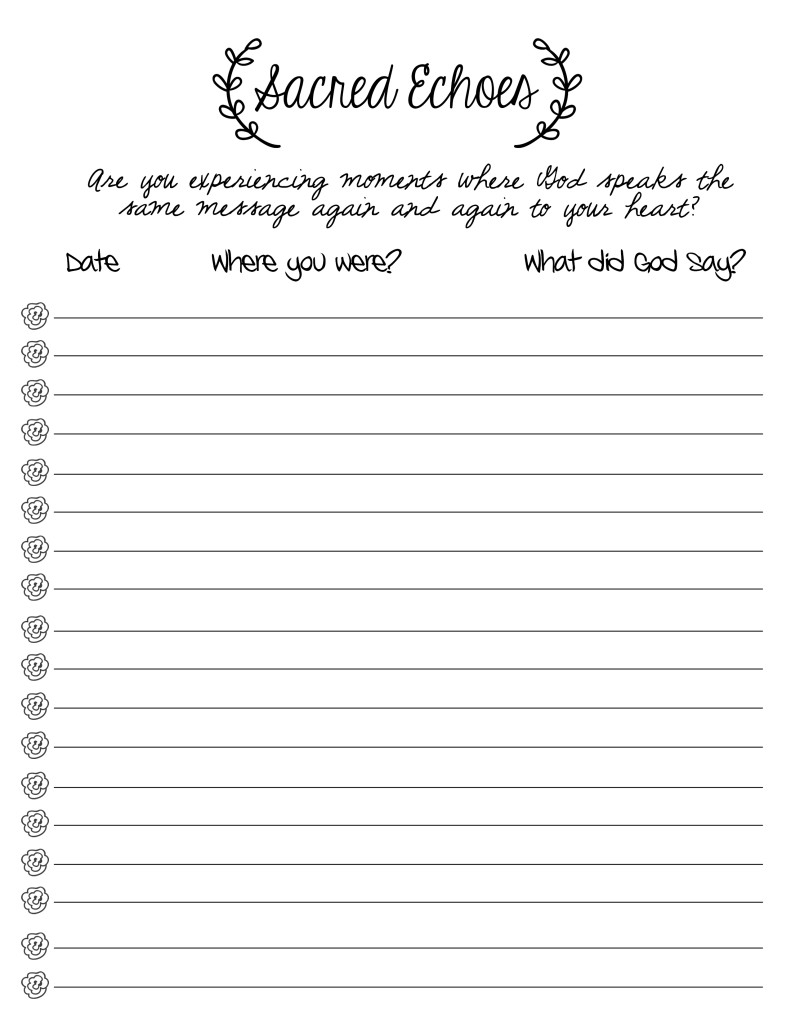 The title for this Session 2 is "I Love You" and what a great echo from God to focus on first! How sweet is God that He says to us "I Love You" in response to our prayers. And He doesn't want us to miss it so He will keep repeating it! It is the beginning point….it is foundational! Don't let the busy-ness of this week keep you from sitting with this wonderful reality this week – we need to really "get it" if we want to connect with Him intimately, if we want to journey through this season of life connected to Him not just with our heads but with our hearts. When God whispers "I Love You", do you hear it? Are you open to it? When you read His Word, is your heart open to what He wants to tell you or are you just looking for information and guidance? Yes, His Word has a lot of wisdom and direction to give. But He wants to give you so much more than that. He is so relational (thank goodness) and desires for us to not just know about His love but to experience it. He wants to be near and not far off. This week would you think about what is holding you back, what is keeping you closed up from hearing His "I love you's"? Is it hurt from the past? Or fear about the future? Are you distracted and too busy?
About two years ago I moved into a little rental home during an unsettled time in my life. It was a hard move on several levels but I fortunately had great support from family and friends which was one way I knew God was telling me "I love you." As I woke up the first morning and was lying in bed, I heard a lot of birds outside my window just singing away. It was a really pretty, sweet sound and it made me remember a time I had heard Beth Moore say when she hears the birds sing she knows it is God literally saying to her "I love you!" I was so glad that thought popped into my head at just that moment and I adopted it as truth – and it made me smile. My sweet God knew right where I was and how unsure I was feeling and He was telling me "what matters more than anything is that you remember I love you!" I heard those birds sing almost every morning at that house as I lived there for the next year. And the sound honestly made me smile every morning.  
So this week before you watch the video HERE, how about pondering a few questions as you get started.  Feel free to share your thoughts in the comment section on one or all of the questions.  Remember this is optional but we have found that it really helps with accountability and a sense of community.  Enjoy the week – can't wait to hear how God reminds you He loves you!
What are some ways God has said "I love you" to you? Will you share a few words or a story of circumstance, unexpected provision, blessing, health, strength, etc.

 Why do you think God reveals His love in so many ways to us? What are His hopes for us? What does He want to see in our lives?

 In the discussion & study section, Margaret asks us if there is a scripture that has been a type of spiritual anchor for us, one that draws us back year after year. What is that scripture for you?