We have a yummy recipe to share ~ "Tortilla Soup" from our "Charming Celebrations" cookbook. It is perfect to enjoy on a cold winter night…like tonight! While it's cold outside, cook up something warm and delicious inside! To see additional recipes shared from our cookbook, click here.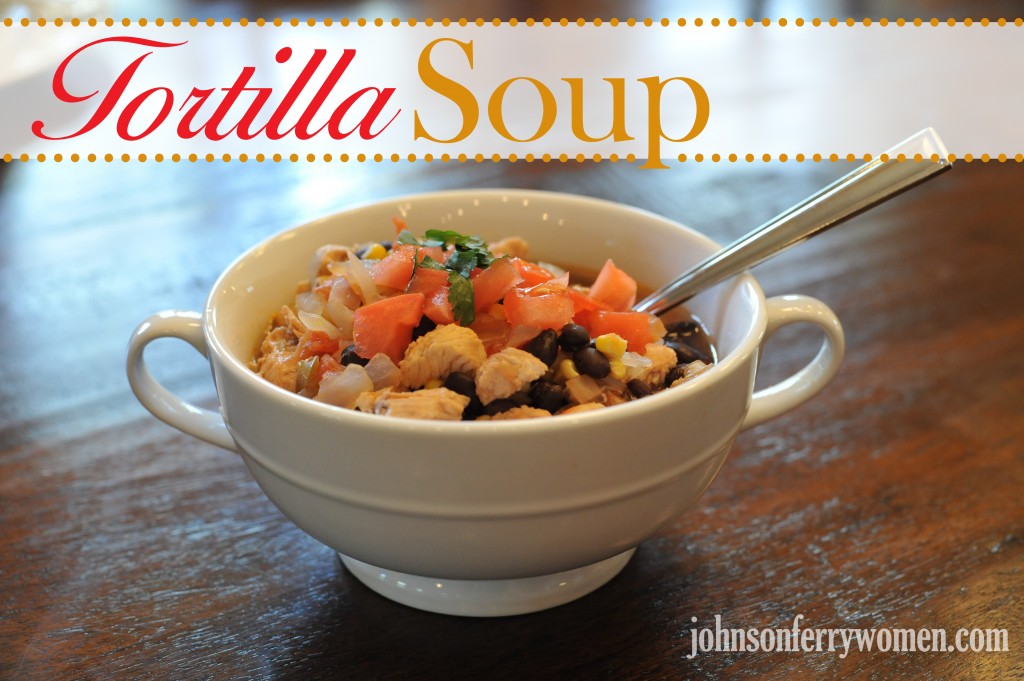 This is a fast weeknight favorite, especially in the cold winter months! Great served with cornbread!

Ingredients
1 tablespoon vegetable oil
1 cup diced red onion
1 whole roasted chicken, deboned and shredded
4 cups chicken broth
1 teaspoon crushed garlic
1 (4-ounce) can diced green chiles
3/4 cup tomato puree
1 tablespoon enchilada sauce
1 avocado, pit removed, chopped
1/2 cup chopped fresh tomatoes
1 cup shredded four cheese Mexican blend
1/4 cup sour cream
1/2 cup finely chopped fresh cilantro leaves
Instructions
Heat oil in a large pot over medium-high heat and add onions, until translucent.
Add chicken broth to the pan and stir in garlic, chiles, tomato puree and enchilada sauce.
Bring to a boil, reduce heat and simmer for 10 minutes and then add chicken.
Put some chopped avocado and tomatoes in the bottom of each bowl and ladle the soup on top.
Top with cheese and sour cream.
Garnish with cilantro.
Notes

Recipe by Denise Forrest (Johnson Ferry Women's Ministry)

http://johnsonferrywomen.com/2014/01/tortilla-soup-recipe/